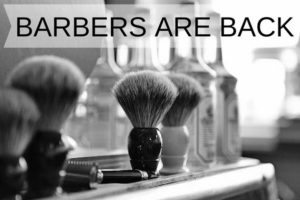 Written by: Hannah Moran
Some people talk about barbershops as a thing of the past – a distant memory of a place where men could gather and get a quality haircut, a close shave, a spotless shoe shine, a glass of scotch, and the neighborhood gossip all in one place. This is what barbershops used to be, but they experienced a big decline over the second half of the 20th century. Well, good news on that front: I'm here to tell you that barbershops are BACK, baby. And now, they're a hip place for men and women to get modern, trendy cuts and shaves. It's a great time in history to open a barbershop! Here's why…
The Rise and Fall of Barbershops
Barbershops as an industry essentially experienced a rise, a fall, and are now on the rise again. To understand why barbershops are back on the rise, we have to talk about why they declined in the first place.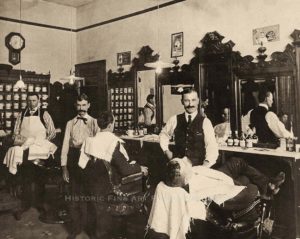 The golden age of barbershops was between the late 1800's and the 1940's. In these days, the barber shop was all about class and luxury. Imagine marble counters, handcrafted oak barbering chairs, fine detailing on the shaving mugs and brushes, maybe even a crystal chandelier hanging from the ceiling… They were designed to make people feel luxurious and relaxed – not unlike the modern spa, but mostly geared towards men. Despite the bells and whistles, however, it was a place of community. Friends and family gathered in barbershops for quality time and a close shave. Many men had weekly and sometimes daily appointments with their barbers, so you can imagine how quickly a community grew in these shops.
When the safety razor was patented in 1901, barbershops experienced their first blow to business. The safety razor was advertised as being quicker and more convenient than a trip to the barber, so naturally, shop sales declined a bit. As more at-home grooming products came out, more men began shaving their own faces. More moms began cutting their children's hair themselves. By the time the Great Depression hit, American families were cutting back on luxuries big time. Going to the barber became a special treat, rather than a weekly routine. An additional loss of clientele occurred after many men died in each of the century's biggest wars, especially after WW1, WW2, the Korean War, and the Vietnam War.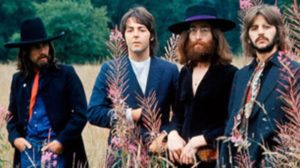 In the 60s, the Beatles were introduced to the world. Then began the frenzy of Beatlemania, and along with it came the hippie culture and the shaggy hair trend. The younger generations were leaving their clean-cut looks behind and embracing the freedom of less frequent grooming, which mirrored the freedom-loving culture of society at that time. Men were growing their hair longer and longer. Barbers were no longer needed for the younger generations that took to this trend, which was a HUGE blow to the industry.
Short hair did eventually come back in style in the 80s, but by that time there was a new type of business in town that drew even more customers away from barbershops: the unisex salon. Places like Supercuts and Cost Cutters brought in a diverse clientele because they were neither barbershops nor beauty salons. They were marketed to both men and women, and they quickly became a popular, go-to place to get a haircut, driving out the mom and pop shops.
Barbers are Back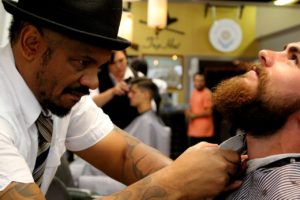 So why are barbershops back on the rise? There are a few things contributing to this trend. The biggest factor is the current hair trends and modern styles. There was a gap in the market in the 90's and early 2000's for the men (and women) who felt lost at those unisex salons, which are geared more towards speed and efficiency than pampering the client and delivering quality service. Consumers are increasingly requesting edgier, more complex haircuts as the modern styles are changing. For men, metro-sexuality is on the rise. This means cleaner and more refined tastes, which is represented in their haircuts and facial hair grooming. And for women, short hairstyles are becoming increasingly popular as more and more women are abandoning the traditionally "sexy" long-hair look and going short. To accommodate these trending tastes, barbers are back in high demand across all genders.
To be fair, there are many cosmetologists out there who can deliver a fabulous men's haircut and a great shave. But the reality of the training program is that when cosmetology students start the skin care, makeup, and nail technology units, barbering students continue to practice haircuts, clippers, and beard and mustache grooming, going more in-depth in these areas than cosmetology students have time for. This specialization makes them more qualified to deliver the kinds of services that a barbershop offers.
Secondly, there was a craving among consumers for that sense of community that existed in the old barbershops. They are much more likely to find that at a locally-owned small business than at a corporate chain. Consumers want a steady barber that knows them well. That's why the friendly neighborhood barbershop is coming back! Even though we live in a fast-paced, digital age, people are lonely. We crave community and meaningful human interaction all the time, even if we don't know it. A well-executed barbershop can certainly deliver this.
Finally, there's just no place like a barbershop for a great shave. Use your home grooming kit if you want, but you'll be missing out on a wonderful experience 🙂
Become a Barber!
As you can tell, it's a really great time to think about becoming a barber, and possibly opening your own barbershop! If you have ever thought about this as a career path, contact us about our barbering program to learn more about what it would take. You can read about our Barbering program here, or just contact an admissions rep to set up an in-person meeting by clicking here!
Sources:
http://www.artofmanliness.com/2008/05/20/rediscovering-the-barbershop/
http://www.denverpost.com/2017/02/16/old-school-babershops-denver/
Written by: Hannah Moran