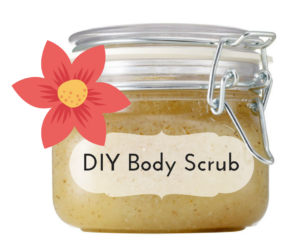 This DIY Body Scrub recipe is an easy, at-home way to exfoliate your skin, while also hydrating and moisturizing! You can customize this recipe so that it ends up being exactly what YOU need. Keep reading for instructions!
Written By: Allison Schade
Ingredients:
An exfoliant – 1 cup of one of the following:
Salt: (Use BEFORE shaving) Salt contains a variety of trace elements and minerals; it relaxes your muscles; most people prefer sea salt to table salt; smaller granules=more gentle on skin
Sugar: Can use both white and brown (brown works great with vanilla); sugar is more gentle on skin than salt
Oatmeal: Detoxifies skin; very gentle; soothing; hydrates
Ground Coffee: Smells Great; contains caffeine
A carrier oil – 1/4th to 1/3rd cup of one of the following:
Sunflower: fights free radicals, protects skin's barrier function, extremely high in Vitamin E
Sweet Almond: hypoallergenic, safe for sensitive skin, protects against UV rays
Grapeseed: light moisture, high in Vitamin E, high in linoleic acid
Olive: contains many vitamins (A, D, K and E), antioxidants that help prevent or reduce damage of UV rays
Jojoba: keeps oil levels balanced, natural treatment for eczema, prevents razor burn
Coconut: helps remove makeup, protects from sunburn, can reduce wrinkles
Apricot: anti-inflammatory, anti-bacterial, anti-septic, prevents damage by free radicals
Avocado: soothes, anti-inflammatory, heals and replenishes, protects from UV rays
An essential oil (or mixture of several) – 5 to 20 drops, depending on preference:
Lavender: stress reducer, speeds healing process, reduces acne
Sandalwood: astringent, anti-viral, anti-septic, anti-inflammatory
Rose: antimicrobial, increases skin's permeability
Lemon: cleansing, nourishes skin, powerful antioxidant
Orange: decreases wrinkles, increases circulation, kills bacteria
Eucalyptus: antioxidant protection, antimicrobial, anti-septic, natural pain reliever
Directions: Mix all together slowly – you'll want the consistency of wet sand. Apply and exfoliate all over body, then rinse with warm water.
Benefits: It is a simple and inexpensive way to slough off old, dead skin cells, while putting moisture and hydration back into your skin. It is SO easy to make – done in minutes! And it's a great homemade gift idea!

Written by: Allison Schade
Allison is an Esthetics student at our Madison school.
Interested in a career in Esthetics? Read about our program here!