We want to be more than a piece of paper – bringing you confidence, pride, and a new set of skills that can drive you towards a new life and career.
MORE THAN A BEAUTY SCHOOL
We know cosmetology isn't just hair, nails, or a single product line. It's finding that special mix of skills that gives you your edge.
From our classes to our students, nothing about us is run of the mill. We're passionate, dedicated, and devoted to the art of beauty.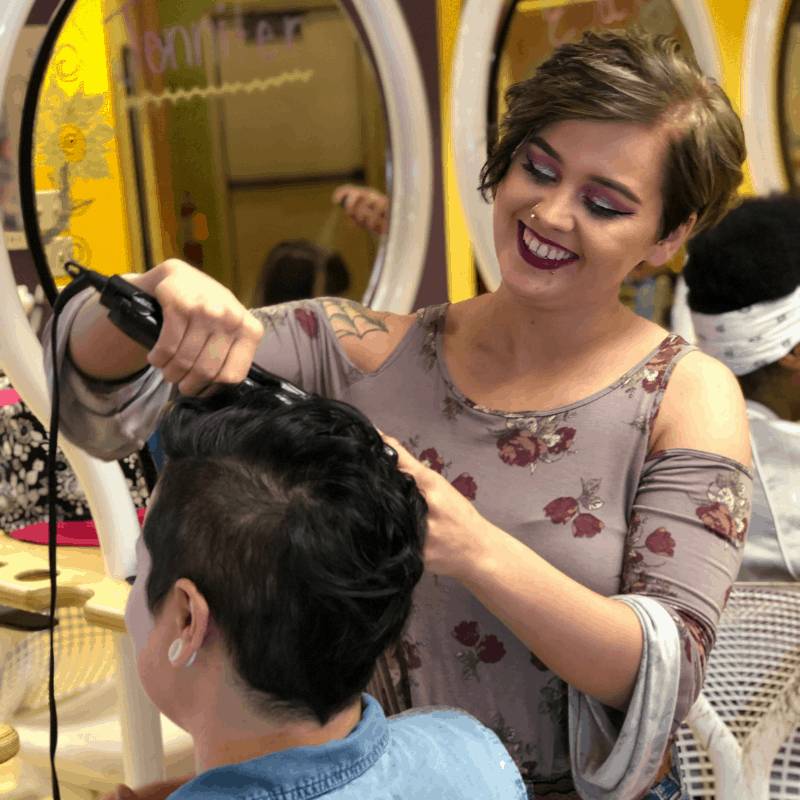 Caring Staff
CARING STAFF AND PASSIONATE CLASSMATES.

We want you to feel like you're part of a learning community, not a classroom.

Instructors can't keep teaching the way they did 30 years ago – we know it doesn't work for everyone. Staring off into space, watching the clock tick…we don't want that for you. We train our teachers in the latest methods of instruction to get you involved and excited. Our staff can't be successful unless their students are. We're dedicated to helping you reach your goals and finding the ways to teach you that work.
Affordable Education
AFFORDABLE EDUCATION AND FINANCING OPTIONS.

We know you have dreams, but sometimes your finances stand in the way.

School can get pretty costly. While education is always going to have a price tag, we've worked our hardest to keep costs down so our programs can be designed with your dreams – and your wallet – in mind. For students who qualify, we have financing options available. This also includes FAFSA for those who qualify. We know beauty school is an investment, and we want you to be a success – not in financial distress.
Fresh Techniques
FRESH CLASSROOM TECHNOLOGY AND TECHNIQUES.

In order to make you a cutting edge cosmetologist, our classes have to be cutting edge.

We use a methodology for developing our curriculum called "The Edge" – but we won't bore you with the details.  All you need to know is this modern method of teaching connects you with your peers and ensures your education not only contains the best content, but also is structured in the best way to ensure you are learning as much as possible.
New You!
A NEW BEAUTY CAREER AWAITING FOR YOU!

Beauty. Career. A New You. Seriously, it can be that simple.

If you're passionate about beauty and about helping others find theirs, our beauty school could be the right fit for you. Of course, when we talk about creating successes we also walk the walk. If within two weeks you decide that our program is just not the right fit for you, we won't charge you a cent. We're here for you and to help you achieve your dreams – and that starts with making sure you love what you're doing.
cALL/TEXT OUR ADMISSIONS TEAM
APPLETON   
920-815-3375
GREEN BAY   
920-857-1081
MADISON     
608-709-5204
MORE THAN A LICENSE
Lorem ipsum dolor sit amet consectetur adipiscing elit dolor