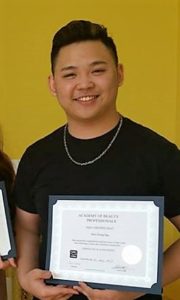 Hieu Ngo is one of Appleton's most recent Nail Tech graduates. We asked him a couple of questions about his experiences with the Academy of Beauty Professionals, and here's what he had to say!
Why ABP?
"I found that this Academy is a professional place. I decided to learn how to do nails and become a manicurist, and I really enjoyed it. All the staff and instructors are very friendly and enthusiastic.
ABP is a good school and the right place to go if someone wants to have a cosmetology career or any beauty job. I would suggest ABP to anyone looking for a career in beauty. I love this school!"
Why did you choose to be a manicurist?
"Beauty is a part of life, and I think all women love to get their nails done. Nails are art, too, and I love art. I want art to be a part of a beauty job. I want to make people happy by doing their nails."
Our next session of Nail Tech classes begins June 19th! Click here to learn more about the program.