Summer isn't over yet, so you can definitely fit these adorable styles into the final days of your summer vacation. Soon enough we'll be thinking about sweaters, boots, and Starbucks (admittedly, we all love fall here)…but we'll hold off for a bit longer! Let's talk summer hair trends that keep us looking effortlessly chic.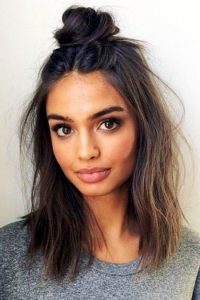 1. Top knot. When in doubt, bun it out. I think it's safe to say this summer staple will never go out of style. Maybe it's ease of achieving this look…or maybe it actually is just that cute. Either way, we believe messy top knots are here for the long haul.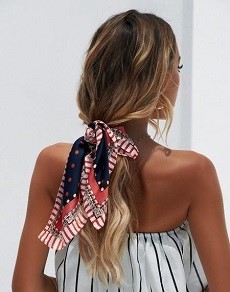 2. Hair scarves. This is such a fun accessory that can elevate your look from simple to cute and preppy. Add it to your messy bun, braid, or pony – this accessory is super dynamic. The fun colors and designs can add extra dimension to any look.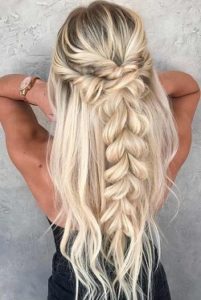 3. Braids. We're backing up the braid. Contrary to popular belief, the braid is back in action. Fishtail to traditional, there are so many ways to wear this creative style. Mohawk braid into a top knot, incorporate small braids into your beach waves, style your hair half-up with loose braids…the options are endless!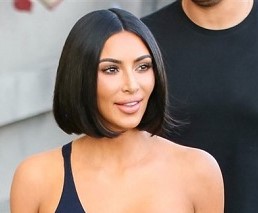 4. Bobs. Whether it's the heat, or your deep desire to switch up your look, you can feel free to chop those luscious locks off – regret free! Bobs are a fresh, modern look for the summer. If you still need some social proof before you go and cut 8 inches off your hair, let us remind you Kim Kardashian is HERE for the bob. *Reminder* – it always grows back! 😉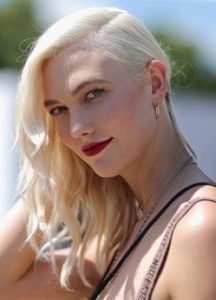 5. Platinum blonde. Que the toner for this one! It may be hot out, but your hair can be cool…like very cool…like almost white cool. Everyone is sporting this look. This light look is perfect to pair with light summer colors and hot weather!