Does it feel like time for a change?
Are you ready to beat the winter blues?
Has cabin fever set in?
Have the blahs gotten you down?
Then guess what?
It's spring!!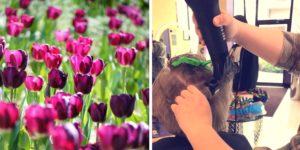 Time for washing away the last remnants of snow on the roadside, and make way for all things fresh, beautiful and new! Does a fresh new you play into that as well? Perhaps that starts with an updated hair color…out with the old and in with the new!
Whether it's a bold statement color, a light and bright blonde, a vivid red, a subtle tonal change, a trendy soft pastel, a beautiful balyage or ombre…it's up to you and the sky is the limit!
So for all of you trying to beat the winter blues, or if you're just ready for a change…we've got you covered!