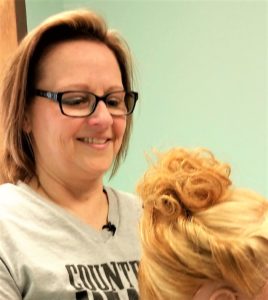 Cathy Wendland is a current Cosmetology student at our Madison school. We asked her a few questions about her experience with beauty and her journey here at the Academy of Beauty Professionals, and here's what she had to say!
What does Beauty mean to you?
Beauty is more than skin deep. Unfortunately, in this day and age, people put value on how they look in order to feel beautiful. So, in saying that, it is important to have someone they can trust to help them achieve external beauty, which in turn can help them feel more beautiful inside.
What has been your biggest obstacle and how have you overcome it?
My biggest obstacles have been being a single mom for the past 17 years, as well as losing my job this year. I have learned how to overcome both of these obstacles thanks in part to the loving support of my family and friends. I had to dig deep and figure out what I needed to do for myself and my family.
What are you plans for the future?
I plan on obtaining my cosmetology license and re-certifying my massage therapy license. I would like to open, manage, and run my own salon spa. I would like to run a business that people want to come to for their beauty services, and one where people want to work and grow in this field. Maybe someday I will obtain my instructor license!
Cathy is a current cosmetology student in Madison, WI.