This week's Mentor Spotlight is all about our talented cosmetology instructor, Miss Karen! Continue reading to learn about Karen's passion for the beauty industry.
Q: How long have you worked for the Academy of Beauty Professionals?
A: I have been with ABP coming up on 2 ½ years.
Q: Where did you get your beauty education?
A: Wisconsin College of Cosmetology. I received my Instructor's Education from Martin's in Manitowoc.
Q: How did you become interest in beauty?
A: As a young girl I loved fixing and cutting hair on my doll heads. As a teenager, haircare products and makeup always interested me – I loved trying different looks. When I graduated from high school, my choices were Interior Design or Cosmetology. Beauty school was shorter, so I thought I'd try that first. If the passion wasn't there, I would do the four year Interior Design Degree.
Q: What is the best part of your job as an ABP educator?
A: I believe teaching is a calling. It is building people up, and helping them become more of what they are meant to be. Giving yourself to others is a great privilege! I love being able to pour out my knowledge and wisdom to our learners. I have to say the number one thing about teaching is…the lightbulb moment. They get it…and it's a beautiful sight.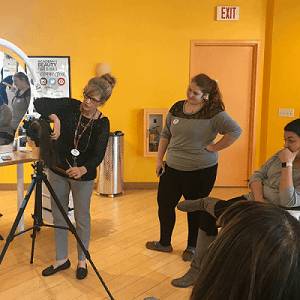 Q: What is your favorite service to perform and why?
A: I enjoy all of it, from customer service to hair cutting, coloring, etc. I have a great passion for this industry.
Q: What is your favorite movie?
A: I have many…The Notebook.
Q: If you could have dinner with anyone in the world, dead or alive, who would it be and why?
A: I would love to have met my Grandfather. He passed when my father was 16 years old. I've heard many inspiring stories about him and how much he was loved.
Q: Tell us something else we wouldn't know about you.
A: I was a salon owner in Sheboygan for over 20 years. I worked as an Artistic Educator for Matrix. I also was an Examiner for the State Boards with Pearson Vue.