Just because family get togethers are smaller this year, it doesn't mean we don't want to look our best! A simple holiday updo is a great way to get in the spirit for a get-together with your close family, or a photo shoot for your annual Christmas card! This updo is a simple way to achieve a hairstyle that looks like you spent a ton of time on it, but it only takes about 10 minutes!
Part your hair to whichever side you prefer and comb out the tangles.
Part your hair from the highest point of your head down to just behind the ear on both sides
Part the back section horizontally at the middle of the ears and pin up the top.
Use an elastic to put the bottom half of the back into a ponytail, only pulling it through until it makes a loop.
Take the top section in the back, back coming just a little bit underneath for some volume, and use another elastic to make a loop just above your bottom loop.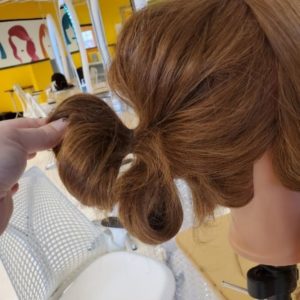 Put the top loop through the bottom loop.
Use bobby pins to place the hair where you want it. (TIP: To hide your bobby pins, place the hair you want to pin down into the bobby pin, then push the bobby pin in vertically towards the center of the "bun.")
 Part one of your sides horizontally in half and pin up the top half.
Split the section in half, twisting the two sections clockwise, then wrapping them around one another counter clockwise. (for a more romantic look,  you can pull on the hairs making it "messier")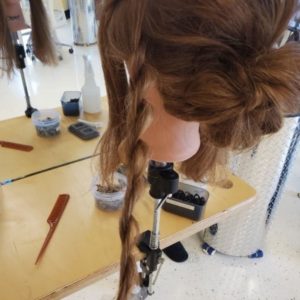 Part one of your sides horizontally in half and pin up the top half.
Repeat on the other side.
Do the same with the top sections on the sides.
Make sure all stray hairs and ends are pinned down with bobby pins, adjust as needed!
Hair Tutorial Blog by Ms. Andrea!